How to create a Port Center?
Several possibilities are available to you to label your structure with the Port Center by AIVP© brand, and thus become a Port Center.
Sign up to the Missions Charter to involve your port-city actors
Order the "Port Center step by step guide"
Participate in a working group Port Center Network
Create your Port Center with AIVP's expertise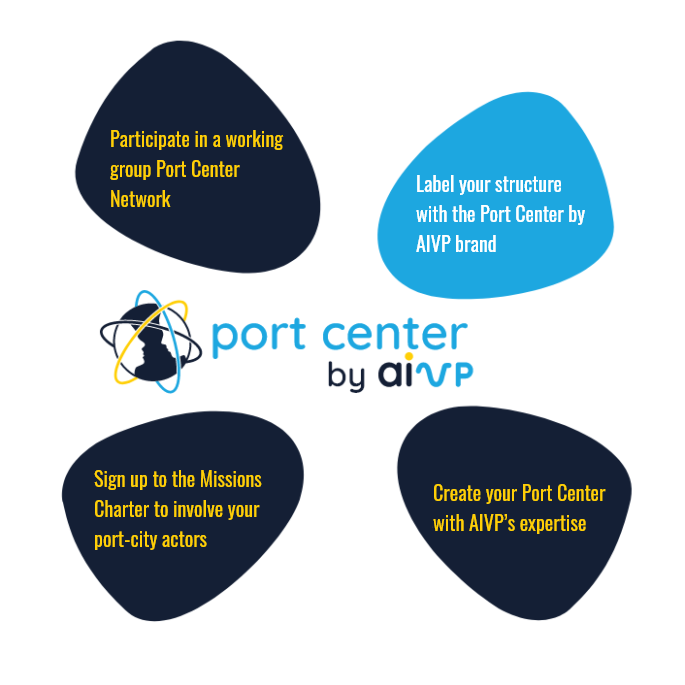 The Port Center enables the concrete implementation of a
sustainable port-city relationship.
Three accompanying services
Every Port Center has to answer to a specific context and be adapted to the history and the socio-economic situation of its port city. Our accompanying approaches have the aim to bring a tailored made support to your project and help you in identifying the major issues that have to be addressed.

Initial support in your Port City
The AIVP team will be on site to present the port center concept in your port city. After having received a general overview of the potentialities, the AIVP team will then aid in co-ordinating round table discussions with stakeholders to enable synochrony in mission perspectives. The AIVP methodology guide inclusive of concept explanation, guidelines for port center structuration, different benchmark examples, etc will act as a tool and will be beneficial for envisioning your basic port center framework.

From a first guidance to a Business model for your Port Center
Contextual analysis coupled with stakeholder interviews undertaken by the port city will enable our team to better aid your mission. The AIVP is on an accompanying mission to helping you realise your port center. With expertise and knowledge over 25 years, the AIVP team will be able to provide guidance that is apt and suitable for your port center mission.

Port Center Benchmark Visit
There is an avenue for benchmark missions in different port cities to learn and discover their Port Center or/and their soft value agenda and understand better the possibilities to apply the Port Center Concept in your port city. It is here that our worlwide network of port and cities will be of immense benefit to you. soft-value agenda and understand better the possibilities to apply the Port Center concept in your port city.
The first 4 steps to build your Port Center
1.

Read the context :
AIVP can help you to perform the initial analysis of your context.

2.

Meet the major stakeholders :
The Port Center concept can be explained by AIVP. It is also possible to collaborate in the interviews with the partners.
3.

Engage with the public:
AIVP can help you in the preparation of workshops and outreach actions with the public.

4.

Prepare a strategy:
The conclusion of the process is the implementation strategy that can be prepared in collaboration with the AIVP, using our expertise.
The guide Port Center by AIVP
To find out more about the Port Center by AIVP, consult our guide.
Download the guide