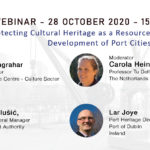 October 21, 2020 8:39 am
Leave your thoughts
AIVP is organising a series of webinars entitled "Port City Talks" to continue to debate, to build the port city of tomorrow and to keep in touch with our members.
The next AIVP webinar will be held on Wednesday 28th October 2020 at 15:00 (CET / GMT +1) and will be moderated by Ms. Carola Hein, Professor and Head of the Chair History of Architecture and Urban Planning, Delft University of Technology (Netherlands). With the confirmed participation of: Ms. Jyoti Hosagrahar – Deputy Director, World Heritage Centre, Culture Sector, UNESCO ; Mr. Lar Joye – Port Heritage Director, Port of Dublin (Ireland) and Mr. Hrvoje Kulušić, Assistant General Manager for Operations, Development & Maintenance of the Port of Dubrovnik (Croatia).
These webinars are exclusively for our members, but if you wish to attend, you can ask us for access.