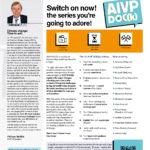 November 5, 2019 4:22 pm

Leave your thoughts

The editorial of Dock Infos #117:

Climate change: Time to act!

On 25 September 2019, the Intergovernmental Panel on Climate Change (IPCC) published its latest report, specifically devoted – for the first time – to the oceans and the cryosphere. This report demands my attention both as an inhabitant of the earth and, of course, as President of AIVP.