Over the years, the AIVP has built up a large stock of resources, enabling it to respond quickly and efficiently to the needs of its members. Through these resources and its network of members and experts, the AIVP has become a true community of best practices. It is then possible, upon request, to carry out benchmark studies, in other words to constitute a set of resources that can be used to assess a project. Although simple in appearance, we must not forget that this service could not exist without years of follow-up and work, which is what makes it so valuable.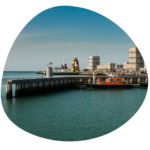 ©Franck Barske
Recent references
2021-2022: "Green Ports of the Indian Ocean" (Mauritius, Reunion, Mayotte, Madagascar, Comoros, Seychelles)

Realization of an inventory of fixtures and a proposal for an action plan for the ports of 6 islands, on the environmental stakes and the city-port interface

2021: "Preliminary study for the implementation of the Port of Kribi City Charter" (Cameroon)

Realization of a benchmark and a recommendation sheet for the implementation of a collaboration agreement between a port and its urban community

2021: "Opportunity study for the deployment of electricity on the quayside in Rouen and Honfleur" (France)

International benchmark to assess the profitability and environmental benefits of deploying shore-side electricity in second-tier port cities.