An agreement was signed at the Sorbonne in Paris on 18 April 2019, between AIVP and the Academic Chair "Entrepreneurship, Territory, Innovation" (ETI), launched in 2018 by the University of Paris 1 Panthéon-Sorbonne and IAE Paris-Sorbonne Business School. The agreement followed a Master Class given by Professor Gaétan Siew on the topic "Port Cities, World Cities".
Under the slogan "Rethinking centres of innovation and entrepreneurship in our territories", the chair is developing a programme of meetings, training courses and conferences to help organisation, businesses and local communities to better deal with current changes. Professor Carlos Moreno, scientific director of the ETI chair and member of AIVP's network of experts, was keen to add to the content on offer with a focus on port cities, unique centres of global economic and urban growth in a fragile environmental context.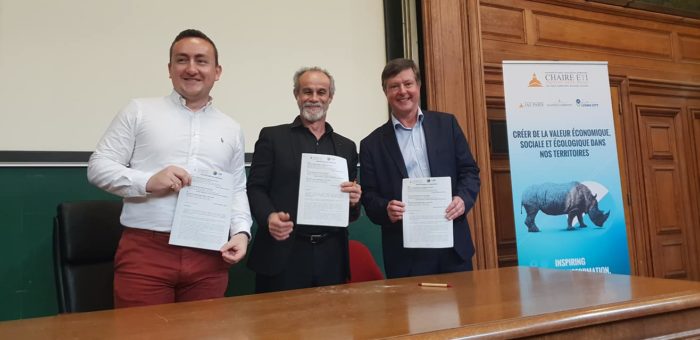 In his speech, Olivier Lemaire, General Manager of AIVP, emphasised that with its international expertise in City Port relations and their dynamics, AIVP will contribute to the development of this chair, where it will act as the voice of ports and port cities, their projects and expectations. Thanks to the chair, any interested party will have access to thirty years of knowledge and shared experience gathered by AIVP on sustainable development projects.