Port Saint John, on Canada's Eastern seaboard is Canada's third largest seaport by tonnage, handling an average of 28 million metric tonnes of cargo annually. It is both a bulk port with a niche container sector and a major port of call on the Canada-New England cruise itinerary. The Port welcomes more than 200,000 cruise guests each year. The impact to GDP is $242 million (CAD) with employment reaching over 2,900 FTE.
The Port is committed to container sector growth with a $205 million (CAD) infrastructure improvement project to lengthen and strengthen the pier and deepen both terminal berths and the main channel. Port Saint John, the closest Atlantic Canadian port to the interior of North America by road and rail, is well-situated for this growth.
The Port is centrally located in Saint John and shares an industrial/commercial and recreational waterfront with the City. A vision document is being co-authored that will outline social, environmental and economic benefits as requirements for land usage going forward.
For which reasons did Port Saint John join AIVP?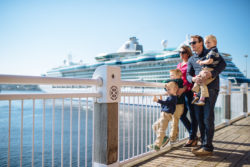 As a Canada Port Authority, we are mandated to facilitate Canada's economic and trade objectives; to contribute to Canada's competitiveness, growth and prosperity; to operate with consideration of safety and environmental stewardship; to consider community and stakeholder input; and to operate in a financially sustainable manner.
As a corporation, our mission is to be the driver of sustainable economic growth in our region through innovation and collaboration. We are achieving this through a strategic framework embedded with corporate social responsibility principles and objectives.
We joined AIVP to build our organizational skill sets through study of best practise and industry trends, network with other port cities who have faced similar challenges/opportunities of co-existing in urban centres, and to strengthen our relationships with our municipality through a shared vision for the waterfront.
What are you expecting from this membership?
We are expecting the opportunity to learn from colleagues around the world through understanding issues that have bene faced and solutions that have been found in other port cities.
What can Port Saint John bring to AIVP?
With a strong community engagement focus, and a culturally embedded sense of social and environmental responsibility, we can contribute through sharing of experiences. As we move further down the path of integrating our port industrial and urban spaces, we can continue to share our experiences. We look forward to taking part in the various events held by AIVP on an annual basis, and we will continually seek ways to align our business practices with Agenda 2030.