Interview with Alberto Dieter Graeff, Delegate of the Presidency, Factoría de Cohesión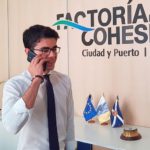 Factoría de Cohesión is a young organization created in 2015, in Santa Cruz de Tenerife (Canary Islands, Spain). Their main mission is to foster greater social, economic, environmental and spatial integration between city and port. Their main supporters are the port authority and the municipality of Santa Cruz de Tenerife. At the same time, they also collaborate with several public regional organizations, including universities and cultural and business associations. Since it was created, Factoría de Cohesión has developed an intense agenda of activities, combining port and urban interests. These activities are aligned with several goals of the Agenda AIVP 2030 for sustainable City Port relationships. In this interview with Alberto Dieter Graeff, we will get to know them better, their origin, the motivation of the team and their current initiatives.
AIVP – First of all, we would like to know how and why you decided to create La Factoría de Cohesión, how did it start and who is the young team behind this exceptional initiative in Spain?
Alberto Dieter Graeff – Delegate of the Presidency, Factoría de Cohesión
The idea of creating La Factoría emerges from the general feeling and need of local inhabitants of Santa Cruz of living more connected to the sea. Our city was born from the sea and it remains its essence. As years went by, the port took land from the areas where there was the better sea access. La Factoría simply tries to respond to the general desire of integrating city and port that has emerged among neighbours and members of the port community.
AIVP – Your main sponsors are the Port authority and the Municipality. However, your activities are related or even overlap with the initiatives these two organizations are also developing (e.g. port cultural events or educational activities). How do you manage this relationship?
Alberto Dieter Graeff – The relationship of La Factoría with the Municipality and the Port authority is the result of a common project developed by both entities, which converge in the projects that we develop.
For us, is clear that our mission is to contribute to the City Port relationship in Santa Cruz. For example, we collaborated in the organization of Fiestas del Carmen (popular local festivities), that are a great tradition in Santa Cruz and usually had two parallel programs, one from the Port authority and one from the Municipality. Our job was to achieve a common festivities program, as it happened in 2018, strengthening the link between port and city.
AIVP – One of the main topics for La Factoría's is the Blue Economy. What initiatives are you currently developing to encourage the Blue Economy in Tenerife? How have you contacted the companies operating in this sector?
Alberto Dieter Graeff – We are convinced that the Blue Economy has great potential to foster sustainable development in the Canary Islands and the planet. We have excellent conditions to develop this field. We are contributing to introduce this new and innovative concept in the Islands, working with the strategy that the Canary Islands government is developing, and with contacts and partnerships with local and foreign companies. Our next initiative in this field is the event "Blue Up", taking place between the 5th and 7th of April. In this event, there will be inspirational speeches from experts and an entrepreneurial campus for young people with mentors, to develop the most innovative ideas linked to the sea and the ocean.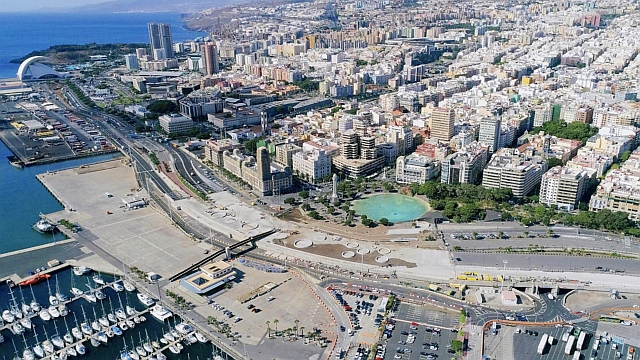 AIVP – One of the goals of the Agenda AIVP 2030 is to develop and enhance the port culture and maritime identity of port cities (goal 6). We have seen that La Factoría de Cohesión has organized several cultural initiatives such as "Navegarte" or "SantaCruceros". How do you address the challenge of disclosing port culture? What are the results after several years of cultural activities and what new initiatives are you preparing?
Alberto Dieter Graeff – We consider that it is crucial to disseminate port culture in port cities such as Santa Cruz, that are deeply connected to the port and the sea. For us, this is a very beautiful work, that it is also gradually opening the port and its activities for the minds of the inhabitants of Santa Cruz. Our motto is that "art and culture awake the conscience that starts the engines of change".
After several years working in this field we have achieved very positive results. The events that we have developed were very well received by the public and official entities, and we are constantly growing in this direction. Our goal for the future is to develop more projects of this kind and new ones that helps us to reach and connect even better with the citizens.
AIVP – Another initiative of La Factoría de Cohesión that caught our attention was "Un Puerto Violeta" (A Purple Port). This initiative is focused on increasing the presence of women in the port sector. We would like to know about the origin of this project and how are you working with the different port and city actors..
Alberto Dieter Graeff – "Un Puerto Violeta" is a new initiative that we are very excited to develop. Today is increasingly more important to fight for gender equality. Although socially we have been able to move forward in this issue, the port and port community remain predominantly a manly world. For this reason, we considered that La Factoría should do something to open the port to women. Our main supporter is the gender equality Department of Tenerife's Cabildo (Island Council of Tenerife), who allowed us to present our project and put it into practice. We have been backed by several public administrations, while port private companies are gradually more aware of this issue. Nevertheless, we still have a long way to go.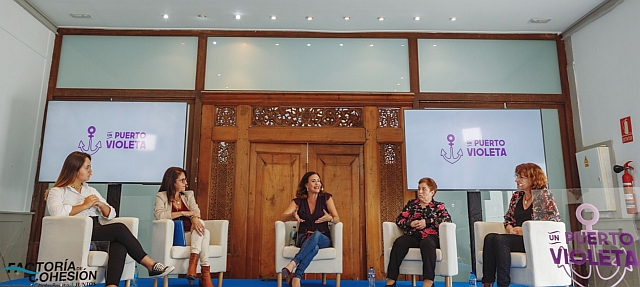 AIVP – For AIVP, education, human capital development and port knowledge dissemination are crucial issues (goal 5 in the Agenda AIVP 2030). In the last couple of years, La Factoría has been in contact with schools of different educational levels (for example, with the initiative "Mar de Oportunidades" – Sea of Opportunities). Could you describe for us how this contact was, what were the main challenges of communicating with children and teens, and the keys to improve this communication?
Alberto Dieter Graeff – In La Factoría de Cohesión we consider that our current work could be pointless if we are not able to guarantee a certain continuity into the future, and the future are without a doubt the children. We think that our work has been useful, since we could see that children of different ages are gradually understanding that it is important that port and city are increasingly more united and that ports also create opportunities for personal growth. Our work is contributing to develop a sense of responsibility towards the sea among younger generations. The key to reach out to younger generations is to use terms that they understand, communicating the essential message. However, the fact that we are a young team also helps to break potential communication barriers, even though it may also have disadvantages.

"Mar de Oportunidades" © Factoría de Cohesión
It is also important to emphasize that we are developing the program working together with the IMO ambassador for Spain, and that we encourage the engagement of members of the port community in our actions, such as the dockers of our port.
AIVP – The issues of transparency and citizen engagement has gradually become very important in City Port governance. How do you address this challenge? How do you consider that public entities such as Port authorities and Municipalities can integrate participatory processes in City Port planning?
Alberto Dieter Graeff – La Factoría de Cohesión has become an allied of the Port authority and the Municipality in such processes, complementing their own citizen participation tools.
The vision and active participation of local citizens is crucial for La Factoría de Cohesión, since in the end, our goal is to help local inhabitants to enjoy the port and vice versa. Hence, many events and activities that we have developed were previously discussed with the citizens to get their approval.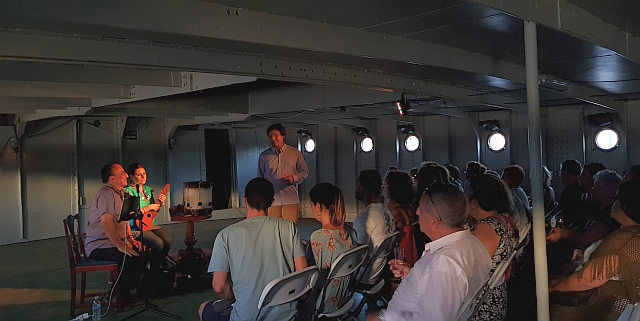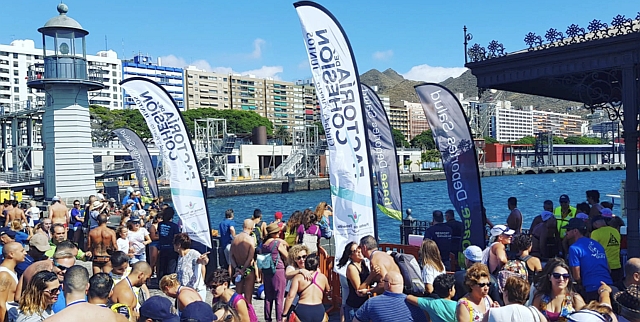 In La Factoría de Cohesión we cannot imagine long term strategic development of a port city without the active engagement of citizens and port community. It is obvious that a port, besides the most powerful economic engine of the city, has the capacity of modifying the environment and functioning of the city. Therefore, it is indispensable to implement the necessary measures to foster citizen engagement.
AIVP – Finally, what are the future plans and ambitions of La Factoría de Cohesión?
Alberto Dieter Graeff – After three years working mainly in Santa Cruz, we think is time to expand our activities to other ports. For this reason, we are developing our own expansion strategy to other ports in the region. Although the City Port relationship depends on the particular circumstances of each context, there are many other issues that are common different cases: desire to be together, port culture disclosure, gender equality in port activities, etc.
We look forward to increasing the crew of this ship named Factoría de Cohesión, to sail to more ports and to disseminate our concept of port city.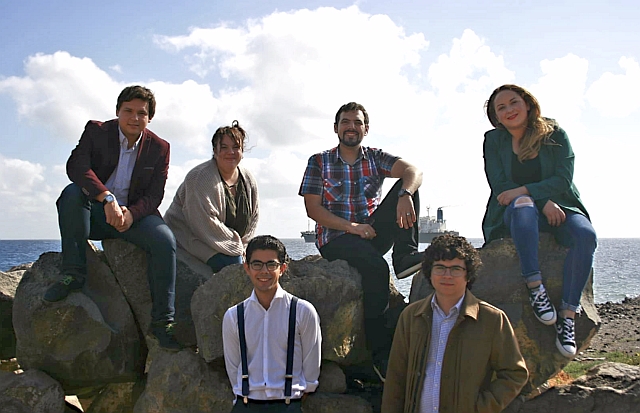 Factoría de Cohesión : FACOCIP.com
AIVP, February 2019