Introduction of the project
Green Corridors have been introduced through the Clydebank declaration, which was launched at COP26 in Glasgow in 2021. The intent behind them is to support the establishment of zero-emission shipping routes between two ports and help decarbonize the maritime sector. Ports play a central role in this idea as main proponents, working together with peers and other maritime and energy stakeholders. In order to understand the impact of these initiatives in port cities and explain their strategies and goals, the AIVP is teaming up with the research group Port City Futures to develop a series of interviews with its members active in different green corridors. Ultimately there will be a final publication to help port city stakeholders understand what green corridors are, what purpose they serve, and most importantly their potential impact on the port-city, hinterland transportation and services, and even their spatial and governance impact on the ports themselves.
The Port of Vancouver is a key participant in the only Green Corridor focused on cruises. In this interview, the port explains its opinion on some key subjects.
Interview with Christine Rigby, Manager, Climate Action and Air Quality, Vancouver Fraser Port Authority.
A green corridor for cruises
1. What was the motivation of the Port of Vancouver to join the Green Cruise Corridor initiative and what is its relevance in your local context?
As the Vancouver Fraser Port Authority, we have a vision for the Port of Vancouver to become the world's most sustainable port. In support of that vision, we have set an ambitious goal to phase out all port-related emissions that contribute to climate change and affect air quality by 2050. As a major cruise destination on Canada's west coast, the Port of Vancouver will welcome more than 300 cruise ship calls and up to 1.3 million passengers this year, and it's important that we do so sustainably. We have been working to create more sustainable cruise operations at the Port of Vancouver by providing shore power technology at our Canada Place cruise ship terminal, which has prevented more than 30,000 tonnes of greenhouse gases to date. The Pacific North Northwest to Alaska Green Corridor is an opportunity for us to continue to build on that work and explore new ways to further reduce emissions from cruise, in collaboration with cruise lines and others.

The implicated port actors
2. Besides the port authorities, who are the key actors involved in the Green Cruise Corridor? How did the local port ecosystem react to the engagement of the Port of Vancouver in this initiative?
First Movers in the green corridor include:
Blue Sky Maritime Coalition
Carnival Corporation & plc
City and Borough of Juneau
City and Borough of Sitka
Cruise Lines International Association (CLIA)
Greater Victoria Harbour Authority
Norwegian Cruise Line Holdings
Vancouver Fraser Port Authority
As one of two homeports for the Pacific Northwest to Alaska cruise sector, the Port of Vancouver is an important partner in this green corridor effort. Cruise vessels spend many hours berthed in downtown Vancouver, surrounded by communities where people live, work and play. The Port of Vancouver is a bunkering hub for vessels along this route, and has additional potential to support cruise vessels in reducing emissions enroute to/from Alaska, as well as in port.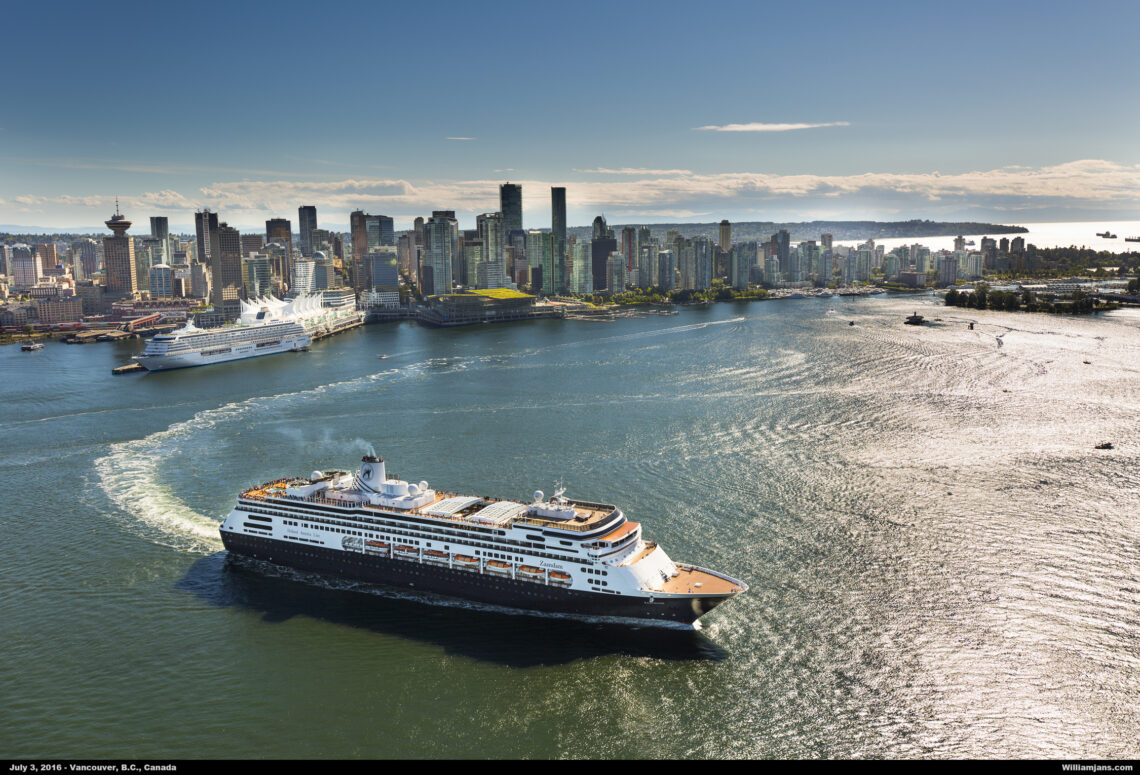 New opportunities to engage the community
3. How does your involvement in the Green Cruise Corridor bring up new opportunities to collaborate with your municipality or citizens?
The Port of Vancouver is unique in that it borders 16 municipalities and intersects the traditional territories and treaty lands of several Coast Salish First Nations. A green cruise corridor provides an opportunity to work collaboratively with nearby municipalities and Indigenous groups to enable thriving communities.
For example, cruise tourism is directly beneficial to the economy through direct spending and job creation. The Vancouver cruise industry stimulates on average nearly $3 million in direct economic activity for each vessel that visits the Canada Place cruise terminal. Tourism also positively impacts local municipalities and residents through infrastructure development, tourist support of local businesses, and by supporting the viability of festivals, events and attractions.
Vancouver is consistently ranked as one of the most beautiful cities in the world, so it's no surprise that over 1,000,000 cruise passengers come through the Port of Vancouver each year. Guests often extend their stays before or after their cruise to enjoy Vancouver and the various offerings of nearby municipalities. There are many opportunities to continue to work with communities and encourage guests to enjoy local entertainment, restaurants, hotels, shopping and attractions, use public transportation, taxi services, and more.
To us, a sustainable port contributes to thriving communities by working proactively to be a good neighbour, inspiring community connections, fostering Indigenous relationships, and upholding safety and security. Achieving our sustainability goals cannot be done alone, and we are grateful for the continuous support and collaboration between municipalities, cruise lines, local businesses, nearby communities and others.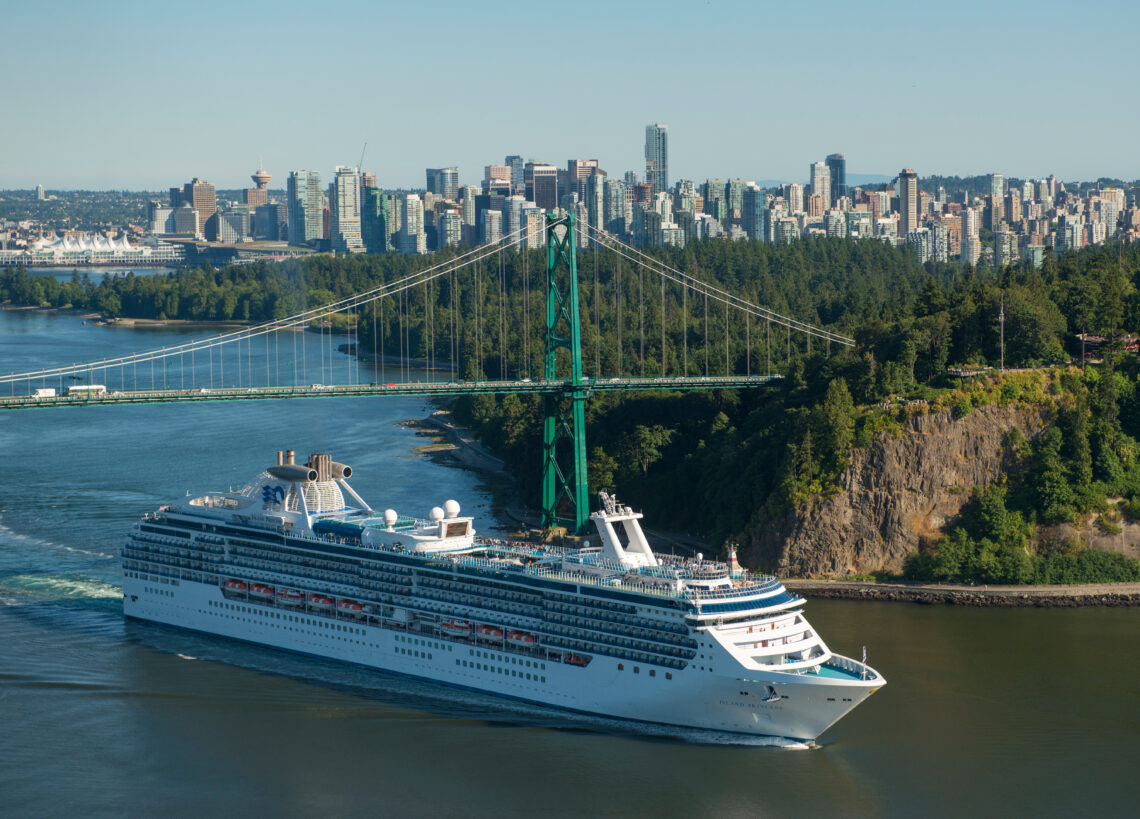 The advantages of this green corridor
4. This is the first Green Corridor focused specifically on cruises, making it both unique and open to different challenges than the other Green Corridors. What are the expected benefits from entering in this collaboration with other ports to create a Green Cruise Corridor?
The nature of a green corridor is that it involves more than one port. The intention is to create a route along which vessels can operate in a manner that reduces or even eliminates emissions. By having key ports along the route all as part of the collaboration, and by working directly with the cruise lines, the collaboration will be better positioned to explore options for greening the corridor that work for the various ports, communities and cruise lines that need to be involved.
Creation of a green cruise corridor along the Pacific Northwest to Alaska route will support cleaner air for local communities and reduced contributions to climate change. It may also support the creation of additional opportunities to reduce emissions through the shared use of infrastructure by other sectors locally, and by creating demand from the same cruise vessels operating in other regions during the off-season.