In October 2023, AIVP will launch the second edition of its distance learning programme, created in partnership with the International Institute of Port Cities (IIPC), based in Chile. The aim of this training programme is to support the various stakeholders of the ports and territories in their efforts to achieve the sustainable development objectives. The programme is available in French and Spanish.
The programme is structured around the 10 commitments of the 2030 Agenda, namely: 1) adaptation to climate change; 2) energy transition and circular economy; 3) sustainable mobility; 4) renewed governance; 5) investment in human capital; 6) port culture and identity; 7) quality food for all; 8) port-city interface; 9) health and quality of life; 10) protection of biodiversity.
The programme comprises 5 successive courses:
Governance of port cities
Sustainable economy of port cities
Urban and natural environments of port cities
Heritage and culture of port cities
Prospective of port cities
The objectives of this programme are :
acquire a systemic and interdisciplinary understanding of port cities.
to put into perspective the issues encountered in their professional practice by contextualising and comparing them.
reflect on ways of moving towards a more sustainable port city.
The programme has a duration of 72 hours, divided into 5 courses or modules. Classes in French are held on Tuesdays and Thursdays, from 16:00 to 17:30 (CET, UTC+2), via the Zoom platform.
Bruno DELSALLE and Dr. Sabah ZRARI present the programme of the course SUSTAINABLE PORT CITIES:
more information on registration fees: here
This course programme was delivered for the first time in October 2022 in French and brought together 22 professionals from ports and territories from 4 continents (Africa, America, Europe and Oceania). The quality of the programme and speakers, as well as the dynamic nature of the courses, were highlighted by all participants in the feedback surveys we conducted.
Para más información, póngase en contacto con :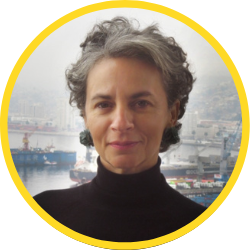 Academic Director of the Course Programme 'Sustainability of Port Cities'
IIPC: Dr Sabah ZRARI 
Academic Director of the programme of course 'Port cities Sustainability'  
sabah.zrari@iipc.cl
+56 985 670 705
Doctor in Political Sciences, Sciences-Po Paris; Master's Degree in Research in Public Policies and Comparative Societies, Sciences-Po Paris; Higher Studies Diploma (DESS) in Urban planning and ordering and local development, Sciences-Po Paris. Since 2019, Sabah Zrari has run several further education programmes on the sustainable development of Port Cities.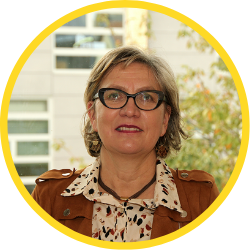 Registration:
Corinne LALLEMAND
Deputy General Manager General Administration Member of the Management Committee
clallemand@aivp.org
+33 2 35 42 78 84