The Solutions Hub is a part of the AIVP Venice Conference that highlights solutions created by our members that can address the challenges mentioned by speakers about the sustainable cruise sector. Wabtec Corporation is a solution provider for the transportation sector. It provides equipment, systems, digital solutions to the marine and rail industries. To create a more efficient, reliable, and sustainable maritime ecosystem, Wabtec provides solutions for Onshore Power Supply (OPS), mainly known in Italy as Cold Ironing. During the AIVP Venice Conference in November 2023, Wabtec will present its solutions regarding sustainable cruises during the Solutions Hub on the 17th of November.
Interview with Christophe Gaigneux, South Europe Regional Sales Manager, Wabtec.
Can you tease the solutions you will mention for sustainable cruises during the AIVP Venice Conference 2023's Solutions Hub?
During the solutions hub, we plan to introduce existing and future Wabtec solutions to respond to the difficulties in greening the cruise sector. Therefore, we may investigate how to balance the Total Cost of Ownership (TCO) in a global cruise ecosystem. We will share our insights on proven solutions, mainly those that we have already implemented in Europe. Finally, we will be teasing a new innovative and combined solution that Wabtec is developing. It combines a Passenger Bridge with OPS solutions (Patent Registered).
In 2021, you installed a sustainable shore power solution to support cruise operators in the port of Kiel (Germany). Could you please explain how ShoreCONNECT has helped advance the sustainable cruise industry in Kiel?
The Port of Kiel and the associated Stackholders have trusted Wabtec and Stemmann-Technik to implement this solution. ShoreCONNECT is one of the solutions offered by Wabtec and is adaptable to each individual port context. It is the interface between the harbor's power-supply architecture, such as a local substation, and any kind of vessel, including cruise, container, OSV, PSV, ferries, RoPax, RoRo, car and bulk carriers. It is also the interface between land-side junction box and ship-side socket. The implementation of ShoreCONNECT in the port of Kiel has gone so well that another new solution is to be implemented very soon.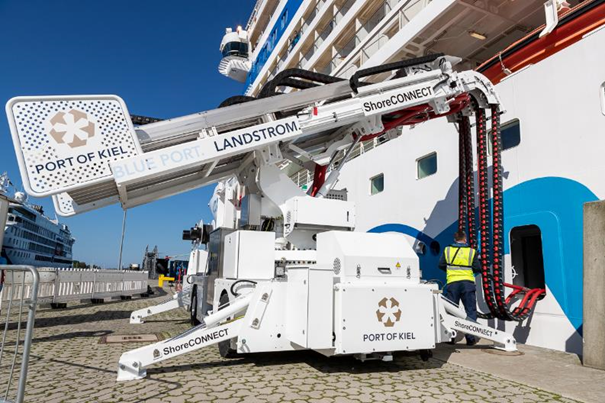 Finally, what are you looking forward to during the AIVP Venice Conference 2023?
There are several different things we are looking forward to during the AIVP conference in Venice. During the Solutions Hub we are partaking in, we want to highlight that although OPS solutions seem to be complex, but we are achieving results and implementing new solutions throughout the maritime sector, specifically in Container, Ferry, and Cruise Terminals. Overall, we also look forward to meeting people and expanding our network throughout the conference. Connecting with a variety of port actors will help us to facilitate the green transition by providing solutions to reduce emissions in ports, especially at berth.