To support its new strategy, AIVP is looking to hire an Urban Affairs Project Manager. With an academic background in urban planning, geography and development, journalism, applied languages or political science, you will be responsible for producing content on urban City Port issues and carrying out international benchmarking on the subject. You will help to define the programmes of AIVP events and organise international cooperation.
PRODUCING CONTENT (60 TO 70% OF WORKING TIME)
Monitoring international urban issuesuaires
Every week, you will be responsible for monitoring urban news in port cities around the world:
Topics covered: city-port interface and regeneration of disused land, development of shared spaces, port culture and heritage, docks and waterfronts, mixed-use functions, urban mobility, etc.
Monitoring tools: paper sources (magazines, etc.) online media, newsletters, social media, institutional websites
Selection of most significant news in articles or short news items
Drafting and publishing articles (FR, EN and ES)
You will be managing the following publications:
News articles of up to 200 words and short items of no more than 20 words;
Interviews with members including four or five questions:
Opinion pieces drafted by experts (up to 2,000 words);
White papers collating all of our content on a specific topic.
Updating the best practices guide.
For the best practices guide inspired by the "AIVP 2030 Agenda for Sustainable Port Cities", you will:
Conduct surveys of our members to enhance the guide;
Make new recommendations based on identified examples;
Update the tool on AIVP's website (with private access).
Carrying out benchmarking exercises.
You will work with our 180 members to:
Respond to requests for searches on urban City Port issues;
Carry out comprehensive international benchmarking on these same issues.
ORGANISING AND SUPERVISING INTERNATIONAL PROJECTS (30 TO 40% OF WORKING TIME)
Conferences and events
You will support our events policy by:
Assisting the team leader with preparing programmes;
Identifying key topics for sessions;
Managing speakers and contributors.
Eventually, you will represent AIVP at international events on urban issues.
Organising and supervising projects
You will help to define international cooperation projects:
by drawing on your knowledge of urban issues;
by identifying the members best placed to take part in projects;
by actively mobilising them, in collaboration with the teams in charge of the AIVP network.
You will be expected to help monitor the projects selected.
Candidates should ideally have: Master 2 or equivalent level qualification in urban planning, geography and development, journalism, applied languages, or political science / fluency in at least two languages (French, English, and/or Spanish) / confirmed interest in international relations.
Position open to students (six month internship leading to a possible permanent position) and young professionals (permanent position).+ possibilité de CDI) et aux jeunes professionnels.
Working environment: AIVP's staff of 12 people is based in Le Havre, France. As part of a multi-disciplinary team of four people tasked with developing the AIVP 2030 Agenda, international projects and events, and content production, you will be responsible for "urban affairs" subject matter, working closely with your colleagues in charge of the "port", "economics", and "social" themes.
Applications must be sent to tfortin@aivp.org & jsanchez@aivp.org by 8 February 2022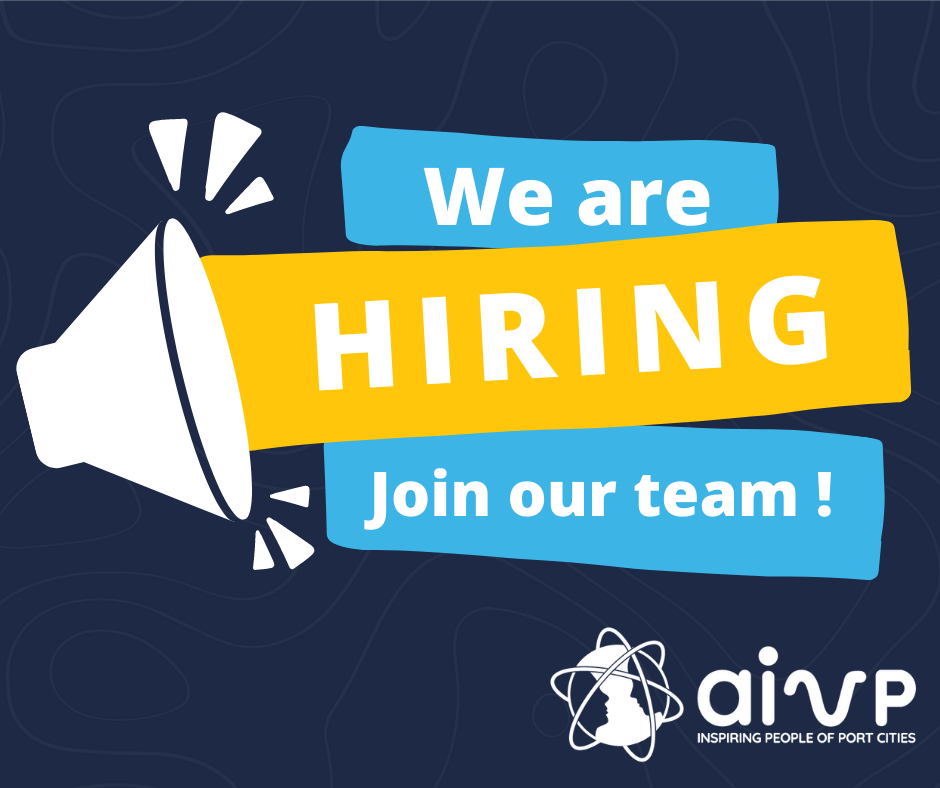 The "international Association of Cities and Ports", (AIVP), was founded in 1988. It is based in Le Havre (Normandy). Its members are private individuals and legal persons under public or private low who are involved in the development of port cities. They are divided into three categories: port authorities, territorial organisations, private or public companies. AIVP supports its members in the implementation of new strategies to enable them to face up to changes which have an impact on the economic, social and environmental development of the port city.
AIVP works in three official languages (English, French and Spanish).