At the heart of the city of Brest, the district of Les Capucins was once a home to the local shipbuilding industry. With its strong maritime heritage, firmly anchored in the memories of the people of Brest, the area is now being redeveloped as an eco-district, a new hub of life, creativity and innovation. From the outset, the project sought to include local residents and all of the stakeholders concerned through a process of consultation. This approach is fully in line with Goal 8 of the AIVP 2030 Agenda. We were interested in learning more about the different aspects of this project, and the solutions adopted. So we spoke to Tifenn QUIGUER, Senior VP Planning at Brest Métropole, and Michel GOURTAY, Senior VP Economy.
Brest Métropole, the metropolitan authority of the Brest conurbation, has been a member of AIVP since 1990

AIVP – The former shipyard site that includes Le Plateau and Les Ateliers des Capucins is undergoing a radical transformation. What are the main lines of the redevelopment of this heritage site?
Tifenn QUIGUER, Senior VP Planning,
Michel GOURTAY, Senior VP Economy.
The Capucins project is at the heart of the metropolitan area, in the Quatre-Moulins district (population: 20,000). It sits on the fringe of so-called New National Programme for Urban Renewal (NPNRU) projects, namely "Quéliverzan/Recouvrance/Capucins" and "Bellevue/Bords de Penfeld".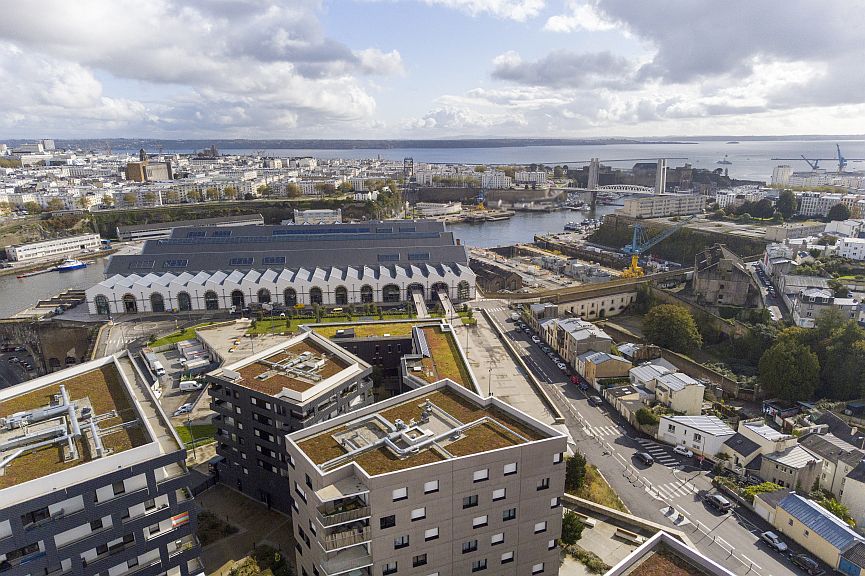 It is key to the deployment of the major urban development project "Cœur de métropole/Penfeld", as it will serve to:
reconfigure the heart of the Pays de Brest conurbation;
strengthen metropolitan functions in Brittany's second-largest city;
regenerate the right bank by renewing the supply of housing and activities;
connect both banks of the river Penfeld more effectively.
This means:
on the one hand, repositioning Brest city centre within its original contours, by expanding towards the right bank of the Penfeld and Bellevue, and promoting the creation of an attractive city centre for the 400,000 inhabitants of the Pays de Brest conurbation. This will be achieved by creating high-profile amenities (François Mitterrand library – Les Ateliers des Capucins, French Tech Brest+'s "Totem" space, a cultural centre dedicated to maritime innovation called 70.8, a national performing arts centre called Le Fourneau, Nelson Mandela international residence and mobility centre, THALES DESIGN CENTER, etc.) ;
and on the other hand, reinforcing the links between the two banks and with the Recouvrance district, by showcasing exceptional historic sites and landscapes that form part of the city's blue and green belt.
AIVP – The aim is also to create an eco-district. What solutions are being used to achieve that?
Tifenn QUIGUER, Senior VP Planning,
Michel GOURTAY, Senior VP Economy.
The project is at stage 3 of the "Ecoquartier" or "ecodistrict" certification process..
The priority was to transform an emblematic shipbuilding site into a new district for the city, a model in terms of quality, mixed-use functionality, and density, all as part of a sustainable development-oriented approach. This was to be done by:
developing the three major functions – habitat, economy, and culture, and by connecting the new district with the old Recouvrance sector;
creating innovative transport infrastructures with an urban cable car and tramway line A;
creating a local energy loop in what is a sensitive zone in energy terms, with the deployment of an urban heating network and solar power plants, in additional to addressing the thermal insulation of buildings;
preserving the area's history by showcasing the local architecture and the machines kept in the Ateliers, and also creating a heritage trail;
and ensuring that local residents were able to participate in the process and take "ownership" of the site, notably by organising a co-design and co-production approach to amenities, supported by the Ecocité scheme.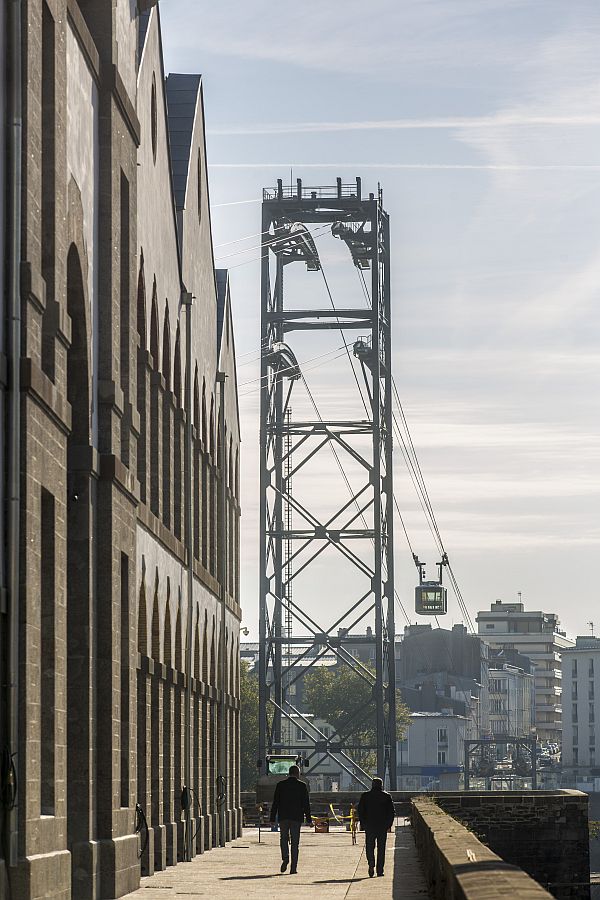 AIVP – Focusing more closely on the Ateliers des Capucins, your priority was to make it a living space, but also a hub of creation and innovation. What facilities are planned or have already been installed? And how will they add to the city of Brest's international attractiveness?
Tifenn QUIGUER, Senior VP Planning,
Michel GOURTAY, Senior VP Economy.
Les Ateliers des Capucins is an iconic Brest heritage site that is inextricably linked to the city's history, the workers and the trade union movement. It has been transformed into a 2.7 hectare hub of culture, leisure and innovation with all kinds of amenities. These include:
"François Mitterrand – Les Capucins" library, a 9,000 m² "third place" housing cultural, leisure and work facilities, along with a 200 seat auditorium, and soon "Ciné Capucins", a five-screen cinema, and the National Performing Arts Centre, Le Fourneau, which covers 2,500 m²;

theme-based shops (food, brewery) and 7,800m² of leisure activities, including "Climb-up" with 1,200m² of climbing walls, and "Illucity" with its 750m² virtual reality adventure park;
digital excellence with the French Tech Brest+ label's "Totem" space (190m²), the start-up accelerator "Village by CA" (500m²) and the coworking space "We Art Minds" dedicated to creative freelancers, entrepreneurs, and start-ups;
technical and technological marine excellence with the "70.8", a fun and interactive 1,500 m² exhibition space showcasing maritime research and innovation;
480 m² of exhibition areas and private conference rooms.
All of these areas are laid out around a 10 000m² main central public space called "La Place des Machines", which is covered and heated. It houses the majestic "Canot de l'empéreur", a heritage piece from the collections of the Navy Museum, a vast skatepark, dance area, picnic area, spaces for exhibitions and public events, and more, which can be reserved privately for large events.
In short, it is a unique, exceptional, multi-purposes venue with major importance in terms of culture, the economy, leisure and tourism!
AIVP – Was the local population included in this major urban regeneration project, and how?
Tifenn QUIGUER, Senior VP Planning,
Michel GOURTAY, Senior VP Economy.
All of the local stakeholders (residents, institutions, economic operators, housing planners, cultural organisations, associations, etc.) were included in the project at every stage, from design through to realisation, starting as early as 2005 and continuing after the Ateliers des Capucins opened to the public:
working groups were set up to address specific themes (Travel, Energy, Culture, Heritage, Innovation, Proximity, etc.);
public information meetings were held, along with other meetings focusing on co-construction, exhibitions and events, as well as major annual events designed to encourage citizens to take "ownership" of the redevelopment, in the form of open days involving both local cultural stakeholders and people who formerly worked at the site;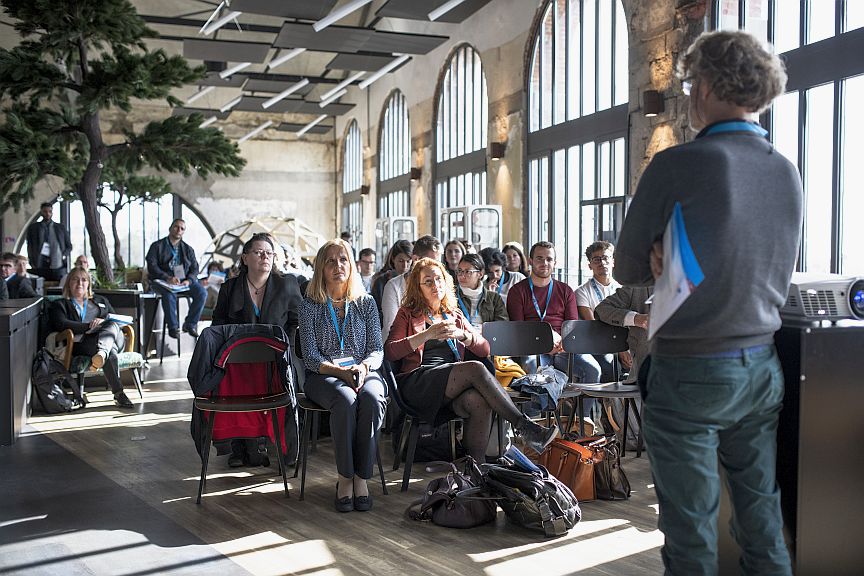 continuing efforts were made to build the project through a co-construction approach and encourage local residents to take "ownership" of the site, through a participative artistic initiative to co-design and co-production amenities, supported by the Ecocité scheme;
SPL Les Ateliers des Capucins was set up specifically to run and promote the Ateliers des Capucins, hosting and co-constructing the site's programmes of activities and events, as well as proximity-based and city-focused programmes.
AIVP – You placed a major emphasis on the historic identity and heritage of Les Capucins. But you also committed to an approach aimed at integrating existing or planned port activities into the local landscape. One example is the future marine renewable energy site, which will be completed by the addition of a promenade and viewing platform. What were the reasons behind that decision, and how are the maritime and industrial activities showcased?
Tifenn QUIGUER, Senior VP Planning,
Michel GOURTAY, Senior VP Economy.
The Region's development plan for the port of Brest, with the participation of Brest Métropole, does indeed include a very significant landscape integration aspect.
Over 4.5 hectares of landscaping makes up the interface between the future industrial port terminal dedicated to marine renewables, and the Moulin Blanc tourism and water sports zone.
A landscaped embankment planted with vegetation, measuring 11 m high and 100 m long, provides pedestrians with unique views of the planned industrial activities at the heart of a 50 hectare enclosed site that had previously not been visible.
Planted with oaks, pines and birch trees, it also has one side that is off limited to the public. That side has been designed to recreate a biotope equivalent to that found on the polder before the work began.
Another component of the site's landscaping is the viewing platform provides unmatched views of the roadstead and the marine activities that take place there all year round. Designed in the shape of an amphitheatre in consultation with local residents, the platform can be used for festive, musical, or cultural events.