AIVP is organising a series of webinars entitled "Port City Talks" to continue to debate, to build the port city of tomorrow and to keep in touch with our members. The 3rd webinar of the series deals with the Port Center and its new role within a smart port city. It will be held on Thursday 2 July 2020 at 16:00 (CEST / GMT +2).
Here is an introductory text on the challenges Port Centers are facing.
These webinars are exclusively for our members, but if you wish to attend, you can ask us for access.

To achieve the 17 SDGs by 2030, we must include citizen participation
Port cities face many challenges today, such as reducing the greenhouse gas emissions, adapting to climate change, embracing circular economy, developing human capital, protecting biodiversity, among others. AIVP gathered and structured them in the AIVP Agenda 2030, around 10 key goals to reach by 2030 for sustainable port city relationships. However, all these goals are practically impossible to achieve by one single actor. It is necessary to engage other stakeholders in plans and actions, and not only port companies or governmental institutions. Citizens must be included in the discussion and drafting of initiatives. If the locals do not consider themselves part of the process and solution, they will not support new projects and it will be considerably harder to pursue the path indicated in the 10 goals of the Agenda AIVP 2030. Fortunately, there is an excellent tool to engage with the citizens that AIVP has defended for more than decade, Port Centers.
Port Centers, the best tool for dialogue with citizens
The Port Center could be defined as an interface with a playful atmosphere between the port, the city and the citizens where the port can communicate on its missions, projects and associated careers. While the concept was originally developed in port cities like Antwerp and Rotterdam, during the last decade it has been implemented in many other locations, such as Genoa, Bilbao, Ashdod, Livorno, Le Havre or Lorient, just to name a few. In the process, AIVP has accompanied its members in the creation of their port centers. Port Centers have been functioning for over three decades, bringing citizens closer to the port, particularly younger generations. However, these structures also face challenges, and need to discuss its role as the central point for port-city relationships.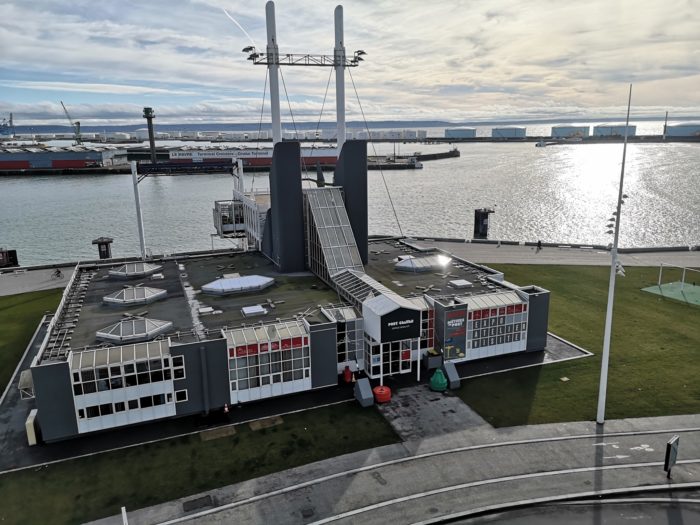 A new role to be defined for Port Centers
In the current context, where the Covid-19 has forced us to question every single aspect of our live, we can wonder how Port Centers are going to meet to the former and new challenges. How are they going to continue their missions when social contacts remain considerably restricted? What content is today necessary, and what is the best way to disclose it?
We can also use the current momentum to discuss more in depth the role of Port Centers, beyond disclosing the values of port activities and establishing dialogues. To debate on these common and in-depth issues AIVP will host its 3rd webinar, with a new format, a live interview with a special guest. On Thursday, July 2nd, we will get to know what Greta Marini, director of the Port Center of Le Havre, thinks regarding the issues here presented and how she sees the future role of Port Centers in Smart Port Cities. We will have the case of Le Havre as the reference context, where innovative projects that could improve the port-city relationship are being developed. In the past two years, the Port Center has become a relevant link for many initiatives, while continuing its activity program. But what is the next step? Let's find out!
Additional resources:
• Watch the episode "Explain the port, appreciate the port" of the series AIVP DOC(k)
• Visit the Port Center website