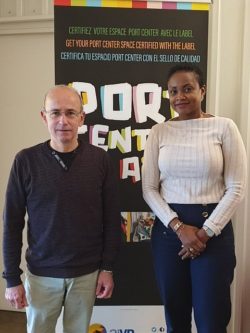 Denis Davoult, head of urban affairs at AIVP, hosted Nadine Bergoz from Grand Port Maritime de la Martinique – GPMLM on 17 January 2020. The meeting was an opportunity to discuss their City Port project, the issues facing them, and possible solutions.
Nadine Bergoz is Head of Communications, and is also responsible for City Port affairs for the port of Martinique – GPMLM. She visited to obtain comments and suggestions from AIVP about City Port interface projects in Fort-de-France. It was naturally a great pleasure to welcome her, and we held some very interesting discussions about the projects.
A commitment to opening up the port to the public
Two years ago, GPMLM conducted a review of its strategic plan for 2014-2018, and refocused its approach around three key priorities:
Creating economic value;
Participating in the ecological transition;
Opening up the port to the city.
The decision to move the commercial port to "Pointe des Grives" freed up space and created new opportunities in the city. The aim is to make Fort-de-France more attractive for both its residents and cruise visitors. The cruise industry is growing in Martinique (500,000 passengers), but generates insufficient benefits for the City when passengers remain on board their ships during stopovers.
Pedestrian paths in the city port interface zone
The City Port interface project, and the initial developments realised to date, is part and parcel of this approach. The idea is to create an attractive and interactive "customer journey" through architectural integration and landscaping. The approach entails regenerating and showcasing some historic port sites, along with natural environments in the city. Two pedestrian paths leading to the city centre will be created, from the two locations where cruise ships moor. The transition areas between Port and City are being developed to promote use of these paths, with the installation of a dividing wall, measures to enhance the aesthetic appeal of buildings at a shipyard still in operation, new green spaces, etc.
The paths will feature convivial areas and promote soft mobility (use of bicycles, electric scooters and small electric cars). They will be aimed both at cruise passengers and the local population. They will also re-connect the different districts to the interface with the port.
Encouraging vocations
Grand Port de la Martinique is also openly committed to being a "Citizen Port". It plans to appoint "ambassadors" from among its employees, to visit training centres and schools to promote awareness about their jobs.
A careers and qualifications campus will also be created in Martinique. The Port will contribute by creating a start-up incubator on the second floor of the terminal building, to support the development of new digital tools. This approach is firmly in line with the focus on investing in human capital set out in our AIVP 2030 Agenda.
The port is also keen to open up its different spaces to the public for cultural or sporting events. For the moment, this is only done on a temporary basis, but could be taken further in the future. The meeting was also an opportunity for AIVP to provide more details about the Port Center By AIVP approach, and to discuss the network of Port Centers created by AIVP's members.
Taking inspiration from best practices in the AIVP network
We also invited Nadine Bergoz to take a tour of Le Havre's Port and City Port interface. While Fort-de-France and Le Havre are of very different scales, they nonetheless face similar issues when it comes to integrating the Port and City. The tour enabled Ms Bergoz to see at first hand the various commonalities between her projects and some of those already realised in Le Havre's City Port interface, and to draw inspiration from the solutions adopted by Le Havre.
It was also a chance to discuss with Ms Bergoz the possibilities for cooperation between AIVP and Grand Port Maritime de la Martinique. A number of potential options were raised, and discussions are on-going. We will of course keep you informed of developments, and any dates you may need to keep free in your agendas to visit this part of the world, which is also happy to welcome members of the AIVP network!
To learn more about City Port projects in Martinique: