The Catholic University of Ecuador is a private university, one of the oldest in Ecuador, founded by the Jesuit Order in 1946. The Esmeraldas Campus was founded in 1981 and its role in the province has been essential in driving change and development through its integrated education model, now managed under the "Ignatian Teaching Paradigm".

The University's commitment goes beyond teaching, giving equal weight also to research and outreach to society. PUCESE works hand-in-hand with a team of teacher-investigators in support of its project City-Port: A development alternative for Esmeraldas, considering the maritime-port context for the development model not only of the city but of the whole province.
Ecuador is the first country in South America to be affected by the coronavirus epidemic. As a university, what actions / initiatives have you put in place to enable students to continue working?
The current global crisis provoked by Covid-19 has hit Ecuador hard, not only in the health of its population but also in the economic and social areas. PUCESE has set up a campaign to cooperate with the emergency policies of national and local government, activating contingency measures to enable our students to continue their studies, regardless of their current economic conditions. For the first time, PUCESE has faced the challenge of teaching an academic semester completely on-line; it has therefore put in place measures to prepare teachers and students to use virtual tools.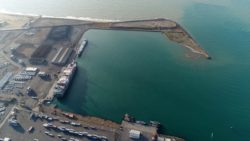 What were the reasons that led you to join AIVP?
AIVP brings together a select group of experts and public and private players on subjects related with the maritime and port activities of cities; this represents an opportunity for exchange of knowledge and experiences for PUCESE, and especially for the research team of the City-Port project. We want our research work to cross borders, to tell the world about Esmeraldas and the work being done by the university to contribute to the integrated development of our environment.
What are you expecting from this membership?
Esmeraldas, being a peripheral province of Ecuador, is of limited interest as an object of research carried out in the country. PUCESE has looked for ways to internationalise its investigations in the province, not only to report the local situation and its problems, but also to obtain help and cooperation from other international institutions and organisations to take advantage of the geographical, productive and cultural benefits offered by Esmeraldas.
We hope that our membership of AIVP will give us strategic allies to make a real impact on our research, and especially to position the "City-Port" project as a tool which will open doors.
What can you bring to AIVP (expertise? information on projects? other.)
Our project, City-Port: A development alternative for Esmeraldas, backed by PUCESE, will allow AIVP to learn about the situation in our port city, which may differ widely from the situation in other port cities in the region. The project is run by a multi-disciplinary team of researchers who are trying to interpret various problems of the city and port of Esmeraldas, and to provide answers from different perspectives. In the long run, this will enable us to share in a valuable information network which can chart the course of new investigations, new theoretical approaches and methodological proposals.