AIVP invites you to a webinar with the ports of the Indian Ocean: together we will tackle the question of their resilience facing climate change, which is particularly affecting these islands, but also the challenges connected to the energy transition and to the port-city interface.
Tuesday 28 February 2023 (11:00 – 12:30 CET Western and Central European Time / 13:00 – 14:30 Madagascar, Comoros, Mayotte Time / 14:00 – 15:30 Mauritius, La Réunion, Seychelles Time)
The port cities of Madagascar, Mauritius, Reunion and the Seychelles, as well as those of neighbouring islands, play the role of capital, cultural and heritage centre and national economic engine. They are interconnected and stand on several South-South maritime routes. However, the Indian Ocean islands are also at an ecological crossroads. As the AIVP, a long-standing active partner in this region of the world, wishes to help the port cities to adapt and transform themselves, we have been carrying out a study on the "greening of the ports of the Indian Ocean" for more than a year.
As we approach the end of this collective reflection, we wanted to organise this webinar to share the first conclusions with the members of our network. Join us for a lively and forward-looking discussion!
Speakers :
Bruno Delsalle, AIVP General Manager
Vyas RUGHOONAUTH, Corporate Secretary, Mauritius Ports Authority (MPA), APIOI
Henri DUPUIS, Directeur Exploitation Commerce, Grand Port Maritime de La Réunion (GPMDLR), APIOI
Mohamed Said DAHALANE, Directeur général, Société Comorienne des Ports (SCP)
Sony PAYET, Chief Executive Officer, Seychelles Ports Authority (SPA), APIOI
Patricia AUBRAS, Directrice régionale Océan Indien, AFD
Théo FORTIN, Head of international projects and cooperation, AIVP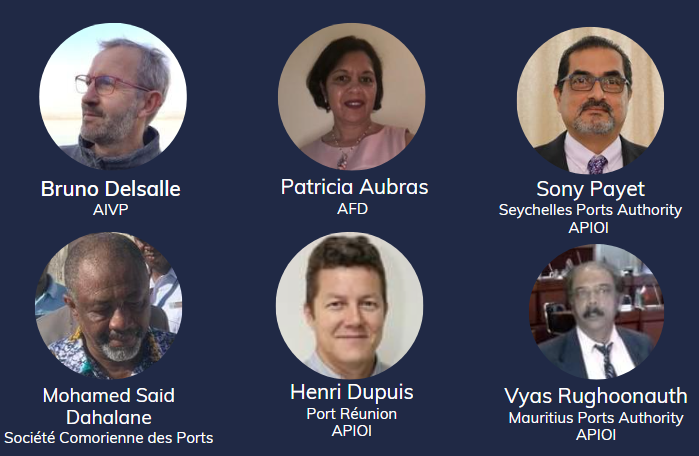 Languages: French, English.
Partners :
French Development Agency (AFD)
Association of the Ports of the Indian Ocean Islands (APIOI)
Participants :
Mauritius Ports Authority
Port of La Réunion
Comores Ports Company
Port of Ehoala
Port of Toamasina
Seychelles Ports Authority
Mayotte Departmental Council