We would like to thank the total of 350 participants who assisted either virtually or in person to the 17th World Conference of the AIVP, which took place in Tangier, Morocco and was centered around the theme "Inspiring Blue Futures". We also thank our partners – Société d'Aménagement pour la Reconversion de la Zone Portuaire de Tanger (SAPT) and Marina – and the official sponsors – SMIT – Moroccan Agency for Tourism Development, Tanger Med Port Authority, Agence Nationale des Ports (ANP), Agence pour la Promotion et le développement du Nord, and Centre Régional d'Investissement de la Région de Tanger – Tétouan – Al Hoceima.
Through the concept of "Inspiring Blue Futures", the AIVP intended to underline the role of primary importance that port cities have to play in this mission and on crucial issues for the future of our societies, our economy and our environment. At this conference, we saw that Blue Futures are made up of innovative solutions for the decarbonization of supply chains and port cities, and that we must focus on alternative fuels and the electrification of infrastructures, marine renewable energies, digitalization or even carbon capture in the marine environment (the best carbon sinks are wetlands and the sea bed). We also ascertained that new approaches need to be developed in natural habitat restoration, sustainable coastal tourism or food systems, including aquaculture and sustainable fishing.
In Tangier, the members of the AIVP, the Port City actors, exchanged around the projects already implemented in the fields of the blue economy. We learned how the territories and infrastructures are adapted to climate change and we discovered how port-city professionals who aim to work in the future hubs of the ocean economy are trained. We discussed how to create and promote socio-cultural links between the blue economy, the port and its inhabitants, and we saw what governance model to put in place to achieve this by encouraging citizen participation. We also discovered the initiatives taken by Tangier, the Moroccan port city located at the junction between the Mediterranean and the Atlantic, to get closer to the water. Protecting the planet also means protecting the oceans thanks to the action of port-cities. As hubs of globalization, they have specific and effective levers for action. It is time to act together to achieve this objective.
We would like to thank all of the moderators and speakers who helped us make this conference so memorable: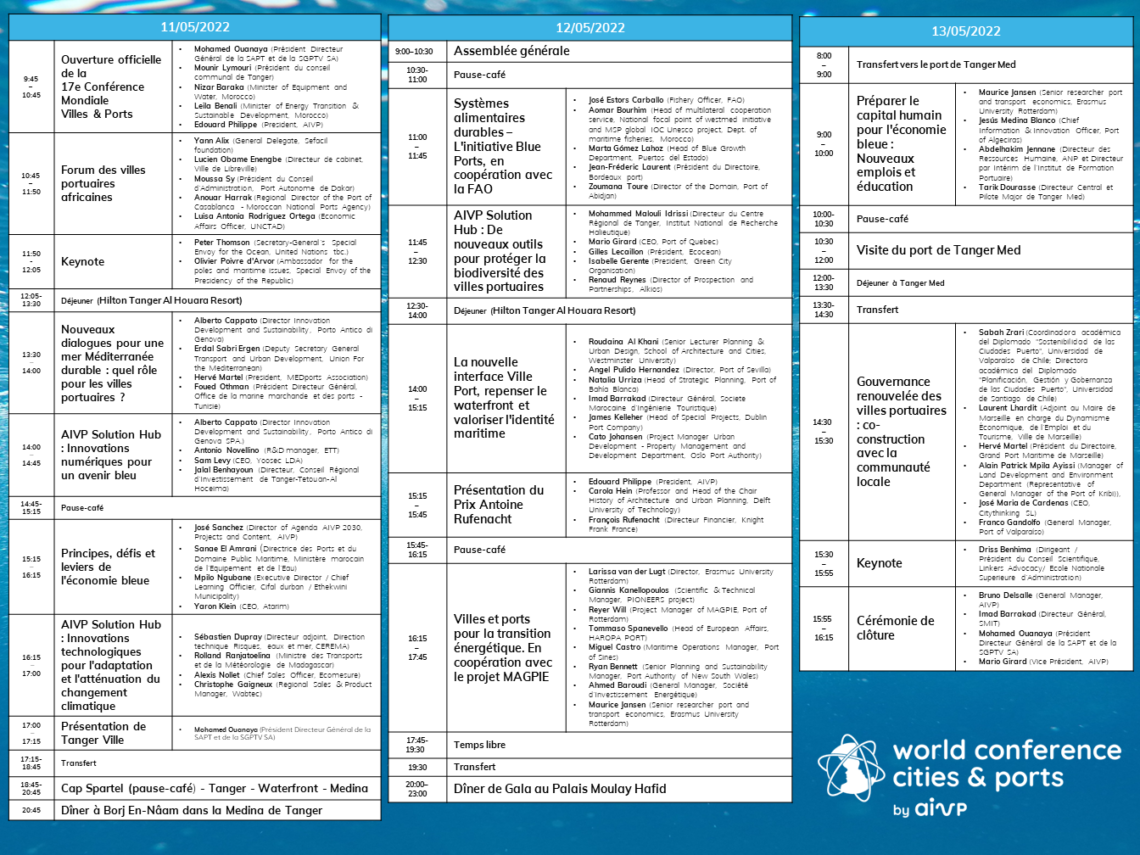 We would like to especially thank our Moroccan colleagues from the SAPT, the SGPTV SA, the Moroccan National Ports Agency (ANP), the Moroccan Agency for Tourism Development (SMIT), the Moroccan Ministries of Energy Transition & Sustainable Development and of Equipment & Water, the Société d'Investissement Energétique (SIE), Tanger Med, and the Institut National de Recherche Halieutique. The speakers from these various organizations showed us throughout the sessions they participated in the interesting steps and projects that the port-cities of Morocco are taking towards a blue future.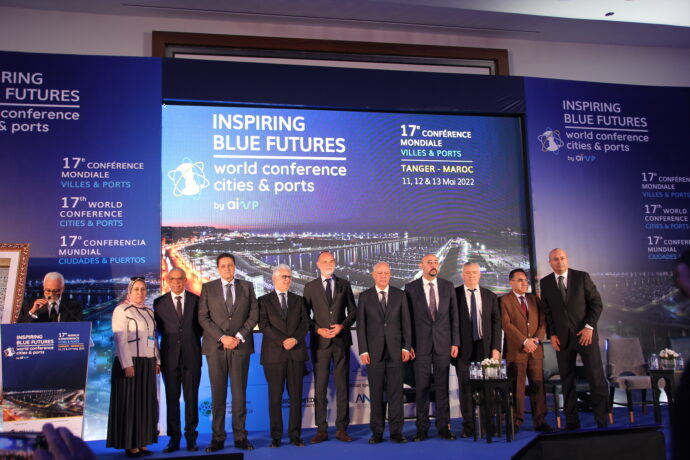 Our official sponsors: