AELER's mission is to accelerate the digital transformation of global freight logistics through structural and digital innovation, improving sustainability and efficiency along the supply chain while providing transparency.
To that end, AELER has created the Unit One, a new generation of smart & green containers. The Unit One, sustainable by design, offers unique structural advantages, which contribute to reduce the energy consumption. It is lighter, more robust and has a higher level of insulation than the traditional steel containers. On top of that, its embedded sensors provide real time visibility and its onboarded intelligence supports the digitalization of logistic processes, while increasing operational efficiency.
Enhancing the Unit One, AELER's platform offers visibility as well as handling possibilities according to the different stakeholder needs and therefore helps support the smooth flow of containers during their journey.
AELER's technologies are the result of decades of research. Its team is composed of talented technical and business leaders with a proven track record and has built during the past 3 years the network to make this venture a commercial success.
Overall, AELER's solutions envision a global perspective along the supply chain, building bridges among the different stakeholders and helping discover synergies for sustainable and efficient logistic operations.
Why did you decide to join AIVP?
AIVP, whose holistic vision and sustainable values are shared by AELER, is a well consolidated platform of key players in the port-city environment. This context of collaboration and common understanding offers perfect fundamentals to apply revolutionary innovative solutions, as the ones provided by AELER, while aligning with SDGs and discovering added benefits among the different stakeholders.
How do you expect to benefit from your membership of AIVP?
As AIVP member, AELER is part of a rich network of very relevant actors in the port-city ecosystem. This helps to increase the awareness about AELER, which solutions increase transparency, reduce energy consumption and improve efficiency. Keeping global needs in mind, we are very excited to collaborate with all the actors in the supply chain to achieve every day more sustainable and efficient logistic operations.
AELER is looking forward to enriching exchanges with the members in AIVP and to co-creating opportunities to explore social, environmental and economic benefits around the supply chain operations, specially focused on the port-city ecosystem.
As you know, one of the key initiatives of our organization is the AIVP Agenda 2030 with it 10 goals for port cities, ranging from the energy transition to food logistics among others. How do you think your smart container can help in the achievement of these goals?
Considering the shared values between AIVP and AELER, the synergies are remarkable. When focusing on the Agenda 2030, AELER's solutions and capabilities are strongly aligned with the objectives of AIVP. Unit One, thanks to its structural advantages, reduces the energy consumption. Its embedded sensors ensure transparency and security along the supply chain process, regarding the state of the goods as well as possible unexpected routing or door opening. And last but not least, thanks to its high insulation and robustness, is the perfect guarantee to ensure high quality food transport.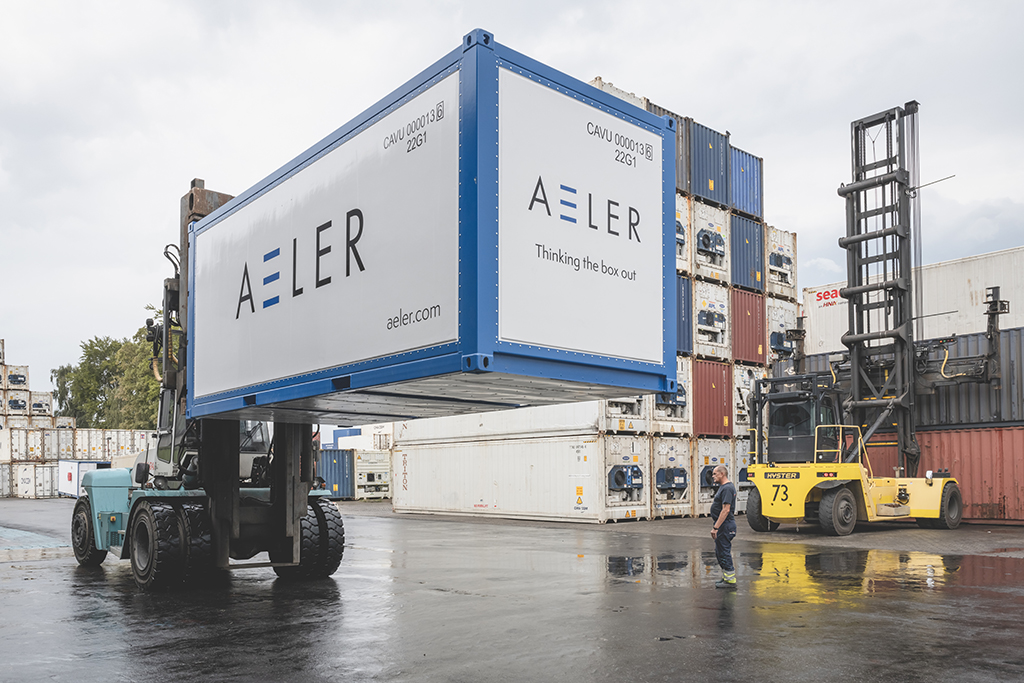 The Unit One container, and its platform, have a clear value proposition which differentiates greatly to any individual product found in the market and which support the needs of the industry regarding sustainability, visibility and efficiency. Overall, AELER delivers technological fundamentals for tomorrow's logistics.
AIVP, integrating AELER in its ecosystem, helps to increase the awareness of these unique solutions and to create opportunities of exchange and collaboration among the relevant key players in the port-city environment.
You can learn more about AELER here: Use-Cases | Solutions | AELER Technologies SA