Colas is a branch of the Bouygues Group specialising in the construction and maintenance of transport infrastructures. The company is committed to tackling the challenges of sustainable mobility, urban development and environmental protection on a daily basis. With 58,000 employees spread across every continent, Colas is constantly working to pioneer new innovations aimed at making roads safer and cleaner. Proper management of environment externalities and smart technologies are key aspects of this policy of innovation, which is in line with AIVP's 2030 Agenda. The international nature of Colas' activities also makes AIVP a natural partner for the company, which generates over 51% of its revenue outside its home country, France. Colas in actively involved in many of the port cities that make up our network, particularly in efforts to mitigate congestion caused by port activities, which generates negative externalities for the urban population. Goal no. 3 of our AIVP 2030 Agenda, on "Sustainable Mobility", is fully in line with Colas' innovation projects. So we were keen to talk to Messrs Jean-Claude Fontenille, Fabrice Luriot and Arnauld de Sainte-Marie.
Colas has been a member of AIVP since 2003.
AIVP – Colas is committed to smart mobility with its dedicated subsidiary, "Mobility by Colas". AIVP is also a proponent of using digital technology to improve traffic flow in port cities. You recently launched a range of smart mobility products, aimed at both public authorities and the private sector.
Can you explain how flows of people and goods can be optimised using apps and databases? Will the general public also be able to access these services, or are they reserved for governments and businesses?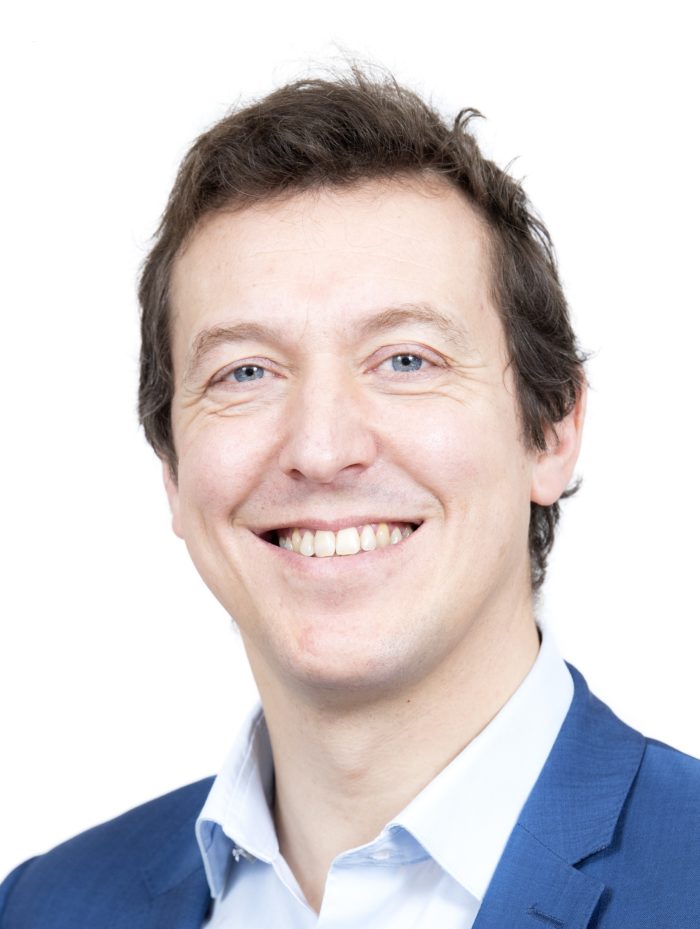 Fabrice Luriot, Director of "Mobility by Colas"  – As a leader in the construction and maintenance of transport infrastructures, Colas is committed to finding solutions to new mobility challenges.  That is the role of its subsidiary Mobility by Colas, which is positioned as a partner for public authorities, citizens, and users.
Mobility encompasses both the means of travel – infrastructure and modes of transport used – and its performance for users in terms of comfort, efficiency, fluidity and safety. Public authorities are best placed to optimise flows of people and goods through a given district. Mobility by Colas gives them the ability to create interactions between infrastructures, users and the global ecosystem, with its Moov'hub service.
Moov'hub can be used to observe flows and optimise the urban space, and is aimed at citizens, public authorities and private enterprise. It includes the following:
–              A digital app designed for users, which provides access to all public and private mobility services and parking facilities in the local area concerned, based on personalised and incentivising criteria (modes, time, CO2 footprint), with a single, integrated, Marketplace-based payment solution;
–              A management platform for the area concerned, with access to all of the on-site data collected to provide an overview of how efficiently the resources deployed are working, and enabling users to regulate all mobility offerings available locally.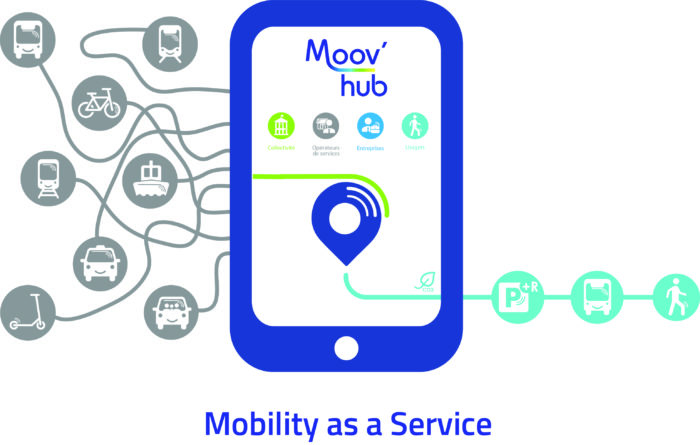 – The "Forfait Mobilité Durable" (FMD) or "Sustainable Mobility Allowance" offered by companies is integrated into our MaaS, with:
o A collective approach to PDIE (a scheme for pooling businesses' mobility plans),
o Integration into the user pathway,
o Easier contractualisation with businesses.
This approach is our way of meeting the challenge laid down by the Mobility Act ("Loi d'Orientation des Mobilités" or LOM) on the MaaS (Mobility as a Service) concept, by rethinking the interaction between authorities, users, and businesses, and the economic and organisational model of mobility.
AIVP – Traffic generated by public works in port cities and by industrial and port activities has a clear impact on mobility. It is common to see trucks cause congestion across cities, due to difficulties accessing the port zone. This congestion generates significant negative externalities for local residents and harms their quality of life.
What solutions does Colas currently have, or what solutions does it want to develop in the future, to reduce these negative externalities caused by works and/or industrial and port activities?
Fabrice Luriot, Director of "Mobility by Colas" –Cities are constantly growing, and in order to meet the expanding needs of large conurbations, frequent public construction or maintenance work is needed. Often, this work is done simultaneously at various sites, causing disruption for the local residents, businesses and other organisations. Mobility by Colas has developed a service called Qievo to tackle the issue posed by these works, a customisable product that is tailored to the specific requirements of a given territory, in order to reduce the negative externalities for mobility caused by roadworks.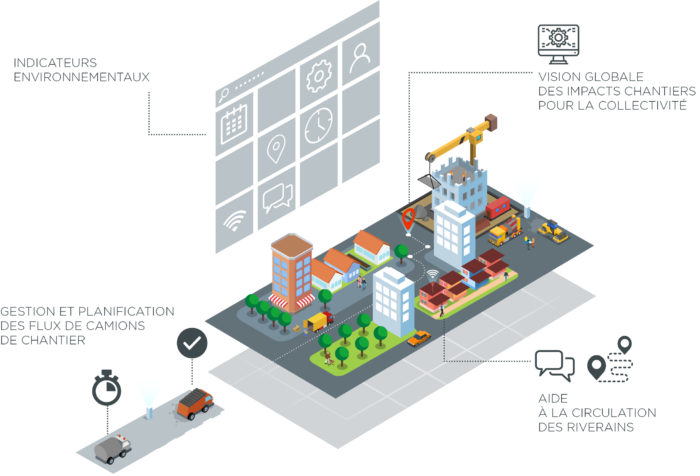 To this end, Mobility by Colas works with the technologies and partners best suited to the area's needs to ensure smoother mobility, whilst using accurate indicators to take into account the environmental and social impact of the actions taken.
The Qievo service is powered by a logistics unit made up of central managers and on-site workmen directing traffic, along with services to guide users, and a range of digital tools:
– A management and reporting tool intended for public authorities or planners, which can be used to track logistical and environmental performance indicators,
– A centralised digital planning platform, for scheduling and regulating deliveries for the various worksites,
– A mobile navigation app for control and communication with delivery drivers,
– A dynamic infrastructure combining marked dedicated itineraries and regulated zones.
The range of tools available via the Qievo integrated tool covers the needs of all parties involved in roadworks, from subcontractors to delivery drivers and logistics managers.

Through a personalised approach, Qievo acts like the conductor of an orchestra, contributing to improved mobility around industrial activities and making them more acceptable to local residents. This is made possible by digital technology, which allows us to remove the barriers that otherwise exist between roles that are traditionally separate, in this case infrastructure, dynamic signage and logistics.
AIVP – In recent years, Colas has done a lot of work on mobility in ports. For example, the project to extend the Port of Calais, or on a more modest scale, the City-Port interface project at the fishing port of Penmarch (Brittany). There is also the ambitious work done to improve port traffic in Marseilles.
What is special about the work being carried out by Colas in ports and City-Port interface zones?
Julien Denegre, Deputy Head of International business development, Colas – Large port cities suffer from chronic urban congestion that affects port activities and economic activity in general. The relationship between the port and city is a dichotomy based on physical and economic flows between the two. The existence of a port – which is in some cases the very reason for the urban concentration – by definition creates distortion in the way the urban environment develops.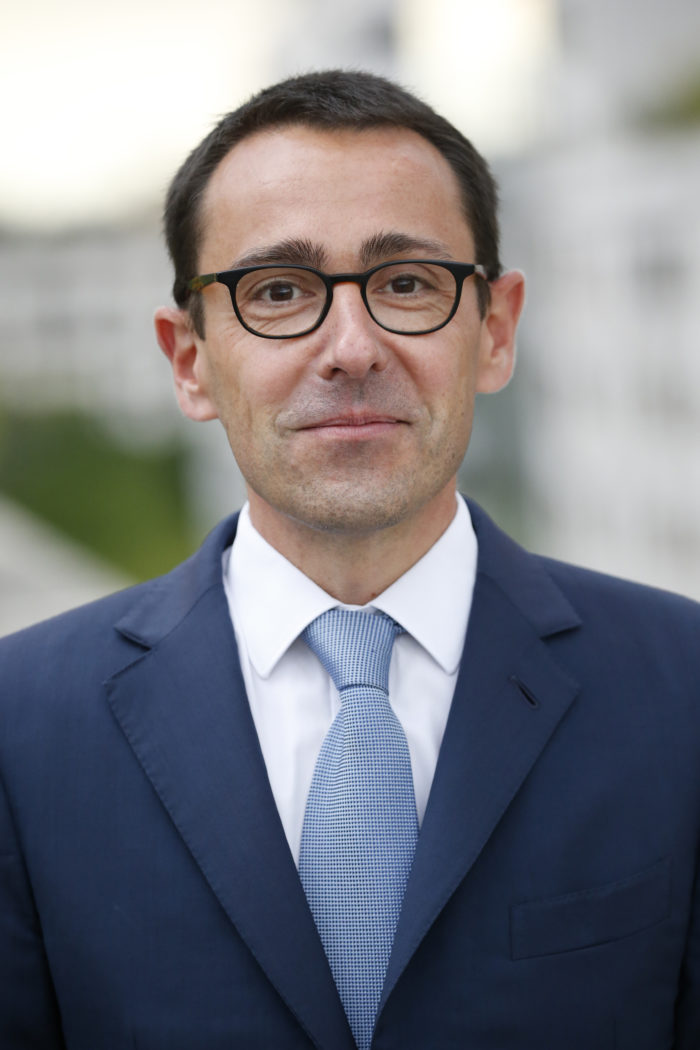 From our perspective, relieving congestion in cities requires not just a whole set of initiatives in terms of infrastructures. It also needs a multi-polar organisation that decentralises urban activity and redeploys it around multiple different hubs, both primary and secondary. This redeployment approach is an alternative to completely or partially relocating port activities to entirely new sites. It entails outsourcing some aspects of the port value chain, either outside or within the city. This can help to regulate the port bottleneck or harmonise relations between the city and port.
With this in mind, Colas is helping to develop intermodal transport by creating new road infrastructures. It represents the obvious solution to the issue of integrating the port into the city. In addition to building road infrastructures, the group's approach is also focused on securing investment (with the lender UKEF, for example, for roads in the Gabonese city of Libreville), but also deploying intermodal logistics solutions such as rail-road combinations with our subsidiary Colas Rail.
Similarly, urban congestion can only be relieved by striking the right balance between the density of traffic on the one hand, and the density of thoroughfares (including, but not limited to roads) on the other. The number, length and duration of journeys must be optimised, so as to rationalise use of the available space. The major challenge in redeploying port activities within the city or to its periphery is choosing the right sites. Colas is involved in the redeployment of certain port activities, such as dry ports or storage zones for clients such as Sea Invest or CMA CGM outside the Port of Abidjan in Côte d'Ivoire.
AIVP – Colas has earned recognition for one of its innovations, the "solar road" or "Wattway". Your company has installed prototype roads in Normandy, but also in the Indian Ocean region, where sunshine is more plentiful. AIVP also has a particular presence in that region. A prototype has been installed in the port city of Le Port, on the French island of Réunion, and we gather that another is to be installed in Port-Mathurin, in Mauritius. Besides the tests, can you explain how this technology works and what the challenges are?
Arnauld de Sainte Marie, Director of business development, "Wattway by Colas" –Wattway technology involves embedding photovoltaic cells in a multi-layer substrate that ensures the surface is robust and allows PV cells to circulate. It is a system that recovers solar energy and converts it into electricity, that can be applied to the road surface.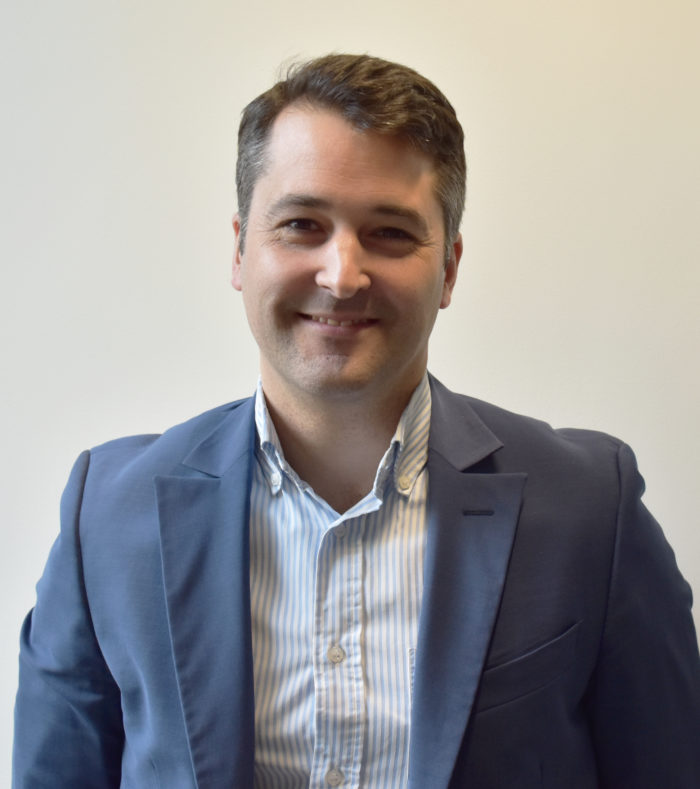 This is a ground-breaking innovation, and as such it was vital to test it under real conditions. Although laboratory tests are essential, they do have their limits, and believed we needed to put the technology through its paces at various pilot sites in France and around the world. This also allows us to see how usefully it can be applied in practice. The aim was to determine how the system works in different climates and with different traffic conditions. That's why we have chosen to deploy it at pilot sites in mainland France, as well as in Réunion and the USA.
Thanks to tests at around forty pilot sites, we have been able to develop the technology further and create a product for the market capable of supplying renewably-sourced power to all kinds of electric devices.
Initially, we have chosen to focus on soft mobility or onboard safety services for pedestrian and cycle paths, but all kinds of other uses are possible. Wattway Pack works like an independent electric socket, as it is equipped with a few Wattway panels, a battery and an electric device, like recharging terminals for electric bikes or scooters, for example. The battery-based storage system means the device can be powered day or night, hence the analogy with an independent power socket. The solution is particularly suited to areas with little or no access to energy supplies, or places where it would be too costly or technically difficult to connect to the power grid.
We are currently continuing our efforts to develop a self-generation solution for larger surface areas (around a hundred square metres). We are convinced that we can make a real contribution – even a modest one – to preventing the artificialization of the soil by using existing surfaces and giving them a new function. The pilot site in Réunion, for example, is on a car park. It has generated 120KWh/m²/year since it was commissioned, making it one of our most productive tests, and it can be used to recharge electric vehicles. Taking advantage of port land for use as thoroughfares could also open up a host of other uses, at a time when solar power is becoming increasingly important in the maritime world. Similarly, we firmly believe that places like islands, where access to energy has always been a thorny issue, could benefit greatly from deploying solar roads to supplement the renewable energies already in place. If we are to succeed in the challenge posed by the energy transition and achieve European commitments for carbon neutrality by 2050, we believe it is vital to explore every avenue.