Designed as an aid to decisionmaking, the AIVP Guide of Good Practices, 2015 edition, is now available to download.
It currently contains 116 examples of good practices, with more to be added regularly. The guide is an invaluable tool for identifying practices that can be transposed to your own Port City.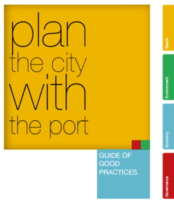 Find the best practice for you!
Problemes and challenges facing us all…: to address each of these challenges the AIVP presents recommendations and their implementation in port cities around the world.
"Plan the City with the Port"?
Not just a shared ambition for all AIVP members, but also a set of common challenges that each of us faces, as we look to make that ambition a reality:
Spatial organisation of the City and Port
environmental integration
economic strategies
governance
… the issues to be covered are vast.
Drawing on its daily monitoring of international news on City Port projects, AIVP has identified 13 challenges:
What to do about the lack of available space?
How to preserve biodiversity?
How to attract residents and businesses?
How to steer city/port projects?
These are just a few of the challenges.
Our Guide of Good Practices will help you find solutions, to all of them, with 46 recommendations each illustrated with examples of actions and projects from port cities around the world.
Download the Guide of Good Practices